Please Contact us if we haven't covered the latest news on the activity/class you are running, your business and services. Wishing you all strength during this difficult time!
FOOD BANK - URGENT REQUEST
The Takutai Charitable Trust in partnership with the Beachlands Baptist Church will be offering a food service to assist the community during the current pandemic. We are in DESPERATE need of food support for local families! We have had so many requests this week and have woken up to more this morning. Some families have nothing left to eat already. We have managed to supply food to some of them but the food bank pantry is now pretty much bare. After the lockdown we can only accept donations of money. Donations can be made online to the Beachlands Baptist Church account at BNZ, account number 02 0168 0129027 04, under the reference 'Foodbank'. The helpline number is – 022 463 8569. This is a local number to use over the coming weeks. Ring for food help or help with anything you are struggling with.
​Community Based Scouting is Suspended from Midnight Tonight – 22 March. We know lots of your young people are passionate about scouting, and achieving their bronze, silver, gold or peak award. Our focus is to provide continuity and consistency in a digital environment so they can continue their personal development. We will be sharing more details with you over the coming days about how we are going to make the transition to digital scouting.
From 23 March: All face-to-face unit meetings, camps, training and other activities are suspended for the remainder of this term. We are moving to a Virtual form of Group Guiding 
With Confidence Speech and Drama classes
All classes have been postponed until Term 3.
Ashleigh is still available by email for adult and corporate courses
.
With the further spread of COVID-19 and the situation in NZ escalating, The Dance Corner has made the difficult but necessary decision to temporarily suspend all classes effective from Monday 23rd March.
Te Puru Community centre: Jumping Juniors, Gymfest and Gymskills,Gymnastics - Tumbling, Rhythmic Gym, Basketball, Badminton / Table Tennis, Pilates, Senior Circuit, Senior Social, Senior Sports, Gymnastics/Fitness Class - Adults, Pilates, Yoga, Coast Connection Yoga, Iyengar Yoga, Rummikub, Stadium Sports, Dance - Latin Ladies, Dance - Social Dance Classes, Free Casual Sports
Community centre temporarily closed.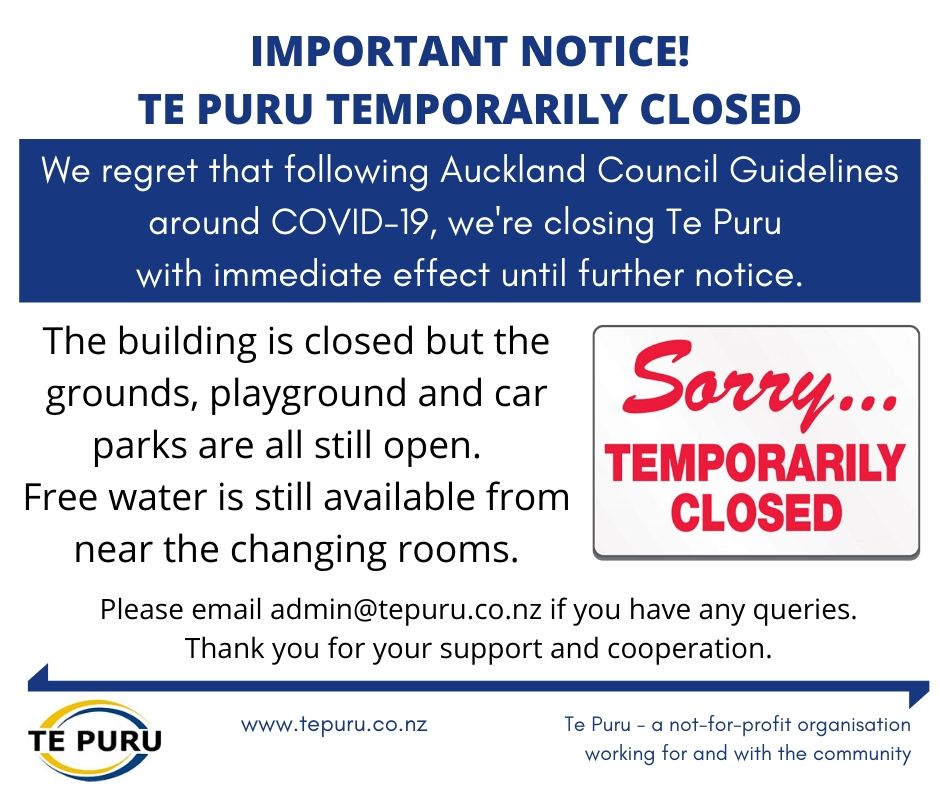 Soccer - Little Kickers and Mega Kickers
Training on Saturday 21 March and 28 March was cancelled.
Taekwon-Do: Ji Shin Dragons - Mini Kids
Mini kids classes suspended:
Hi everyone,
With the current MOH recommendation that to decrease the impact of the Covid 19 droplet virus we should do our best to avoid physical contact and try and maintain a 2m physical gap, I have decided to suspend both our minikids Dragons and Warriors classes until further notice.
Soccer - BMAFC (Beachlands Maraetai Football)
Due to the Covid-19 virus the Season has now been rescheduled to start on May 2nd once school resumes.
In addition, AFF (Auckland Football Federation) have advised that no training or tournaments should take place prior to April 18th. This means that we cannot complete the grading sessions for the 9th and 10th grade teams and our girls only squads until April 18th, nor can our teams train, and we would request that you all respect this.
Please note that these are the currently advised dates – they may change as the situation changes so please keep an eye on our Facebook page, and our website. Please check the Facebook page, then the Website first before emailing us, as our workload is currently high, and most answers will be there.
Pohutukawa Coast Netball Club
As per advice from Netball NZ, all training sessions at the Centre are to be postponed until 1st April. This is effective immediately. Given this is a changing environment this date may change. All netball competitions are to be postponed until Saturday 2 May 2020 at the earliest.
Please note registration evening (18/3) and our pre season tournament (25/3) are now cancelled.